AntiqueBottleHunter.com Sites
BOOKS|BURNABLE BOTTLES|COLLECTION|COLOGNES|COLORED DRUGGISTS|FOR SALE
LINKS|POISONS|SMELLING BOTTLES|SMELLING SALTS

W E L C O M E !
AntiqueBottleHunter.com is excited to announce...
Our NEW sites and products have been launched! Click on the Burnable Bottles link to view two new pages.
We have many more sites and improvements on the way shortly, so check back soon.
--- ATTENTION ---
http://mysite.verizon.net/flaschenjager/bottles.html (- ALL mysite.verizon.net/flaschenjager pages -)
is no longer updated and yet, cannot be deleted.
Upcoming antique bottle shows and events: MARCH 11 - Baltimore, MD
Click here for a complete listing of events with dates and directions - F.O.H.B.C.
Antique bottles - We dig, find, collect, rescue, locate, research, study, preserve, donate, trade, display,
sell and buy bottles. Please contact us about purchasing your collection or singles.
We excavate - dig permission sites only. After securing permission, we locate and recover artifacts from areas
such as: estates, property (commercial or residential), privies, wells, and dumps. We do this without damage to the
property or artifacts and using the safest method possible. Please consider contacting us first if your site is available.

Serious diggers, if you are in the central Virginia area, and want to go bottle hunting (your permission site),
or if you need help with your dig, contact us by the e-mail link below in advance.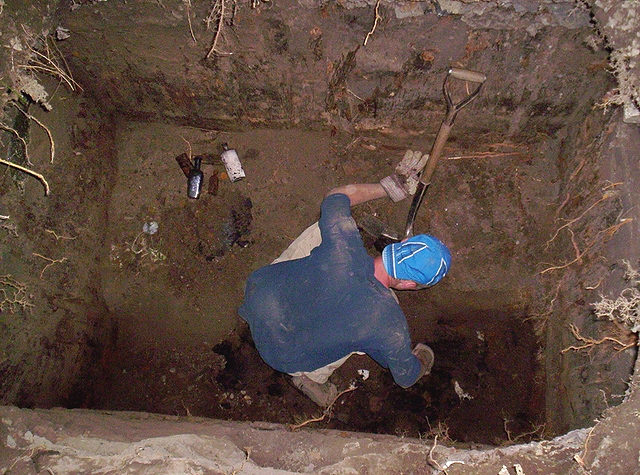 Questions about your bottles or finds?
Please go to any antique bottle forum listed on our links page.
Go bottle and glass hunting when you can, if you can and always take with you large shovel loads of good luck.
Successful searches to all !
MEMBER OF THE R.A.B.C.A. --- MEMBER OF THE F.O.H.B.C. --- MEMBER OF THE A.P.B.C.A. - #331
---
BOTTLE WANTED : We are looking for a pharmacy or druggist bottle, in good condition only,
with the following embossment - "BISKET & MEECH - PHARMACISTS - NORWICH, CONN.".
We are interested in any other bottles that include "MEECH" embossed or labeled.
Click here to see what this bottle looks like.

OTHER BOTTLE WISHES AND WANTS : Virginia bottles, examples from Richmond, Va. (Stumpf - one of ours,
Nickel, Bucker, McCormack, Duffield, Home Brewing, Canfield, Dusch, Mason & Burns, Euker, McAdam,
Brummel & Byrne, Schoen, Gottlieb, Burr, Hulcher & Driscoll, D. Thomas & Co., Fergusson, Camm Bros. and so on.),
early colored demijohns (carboys), flasks (some of ours), scents, colognes, smelling bottles - pungents,
smelling salts, poisons, early utilities, colored druggists, stoneware and much more.
Please contact us if you are offering any of these bottles. Thank you!
---
RICHMOND AREA BOTTLE COLLECTORS ASSOCIATION
The R.A.B.C.A. 2018 meetings dates: June (Club Picnic), Oct. 6 (2018 Show & Sale) ...More dates to come, soon.
The club meets on the second Wednesday of each month listed above at 7:30 PM
at the Dale Ruritan Club, 5101 Ruritan Pl., Richmond, VA 23234.
The monthly club meeting activities include a bottle lot raffle, a program of something usually
bottle related and a "Show and Tell". The "Show and Tell" portion is for participants to show
off their recent finds and give a brief statement about each item.
Visitors are always welcome.
Come and join in !
Click here to view the RABCA website for more details.
The 2017 RABCA October Show & Sale will be at this address:
Chesterfield County Fairgrounds - 10300 Courthouse Road - Chesterfield, VA 23832-6615

Directions to Show: From Rt. 288: Take the Rt. 10 (Iron Bridge Rd.) East exit,
towards the Chesterfield Courthouse complex. Turn left at the first light onto
Courthouse Rd. (about 1/4 mile), beside the new courthouse. Go one mile to
the show on the right, opposite L.C. Bird High School

---
LIKE US - LIKE US - LIKE US
Up to the minute update information and the latest news...
please visit and hit 'LIKE' on our Facebook page at this link:
www.facebook.com/AntiqueBottleHunter
or this Facebook page:
www.facebook.com/BurnableBottles

Are you looking for antique bottles?
How about books about collecting antique bottles or go-withs?
We have antique bottles, books and go-withs available for sale.

Please CLICK HERE to visit our FOR SALE site

It's a page that's updated frequently and has something for everyone.
We currently have 100 or more bottles and items available for direct sale.
Thanks for looking!
We also have many listings on Etsy. Here you'll find many that aren't
listed on our For Sale pages. Please click below to view our listings.
AntiqueBottleHunter.com Sites
BOOKS|BURNABLE BOTTLES|COLLECTION|COLOGNES|COLORED DRUGGISTS|FOR SALE
LINKS|POISONS|SMELLING BOTTLES|SMELLING SALTS
---
Last updated: 2-10-2018
This site is designed, and operated by FLASCHENJAGER.
Copyright © MM-MMXVIII. All rights reserved.
Any use of material either whole or in part is strictly prohibited without express written permission.
BOTTLES - BOTTLES - BOTTLES - BOTTLES - BOTTLES